Closed Account Complaints at William Hill Casino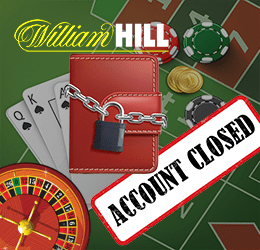 The name William Hill is very familiar throughout the UK. In fact, William Hill has existed as a brick and mortar casino in the UK since 1934. Originally designed for simple sports betting, the company thrived and grew exponentially over the years. With a ton of casino and gaming expertise, the William Hill Company decided to expand into the online gaming industry in 2009. In the 11 years since their online site began, William Hill Casino has become a favorite among players in the UK and beyond.
About This Casino
Taking a quick look at online gaming site, William Hill Casino, shows they have a variety of gaming options. From slots to table games, video poker to specialty gaming, William Hill has a lot to offer players, including live dealer games and a full sports book. They operate on the Playtech gaming platform, which while not the flashiest option available, is known for consistent play, quality game performance and a solid offering of games from which to choose. William Hill Casino also offers a full sports book, available to players around the world, including some states in the US.
While many players report very positive experiences at William Hill Casino and/or their affiliated Sports Book site, like any online gaming site, there are customers who have questions, concerns, or complaints for which they would like a review and response. With large scale online operations, trying to get help as a customer can seem overwhelming at times, so we will try to outline some of the areas of concern with William Hill Casino, common complaints, banking issues, etc. We will review everything from withdraw delays to closed accounts and provide insight on how to get issues and complaints with William Hill Casino resolved.
Customer Complaints regarding William Hill Casino
It is impossible for any online site, particularly in the gambling arena, to receive no complaints. William Hill Casino is no exception. While by and large, they provide customers with a safe environment and fair play, there are occasional issues with withdrawals, closed account concerns, banking complaints, etc. that need to be properly addressed.
The most common complaint regarding William Hill Casino by consumers is regarding delayed payouts. Essentially, players have winning funds that they wish to withdraw and are having difficulty getting the payout to go through. This is probably the most common complaint industry wide, William Hill is no exception. There are several legitimate reasons why withdrawals can be delayed, most often due to verification requirements. The vast majority, if not all online casinos, require customers to submit various documents to verify their information. Without the appropriate documents, such as government-issued ID, and a utility bill, among others; William Hill will not release funds. This is an industry standard, to combat potential fraud. While the delay is certainly annoying to a customer, it is absolutely 100% necessary for casinos to confirm the identity of clients. The best way to address this concern is to contact the customer service department at the casino and confirm receipt of the documents in question.
From a customer standpoint, it is extremely frustrating when withdrawals are delayed, even for verification purposes. In reviewing the complaints against William Hill Casino, there were several instances where verification documents were sent to the casino, but processing was still delayed, even up to several weeks. Another common complaint against William Hill Casino is the closed account.
Unexpected Closures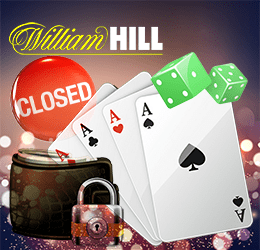 A closed account complaint against William Hill Casino is when a customer attempts to access their account, and their credentials are no longer active. In some cases, customers had a balance on their account. In other cases, customers simply hadn't played in a while, and once they signed in, they were confronted with a closed account. Closed account issues are common among online gambling and sports book accounts. There are a number of legitimate reasons for a closed account, especially with the amount of regulatory compliance required within the online gaming industry. Closed account inquiries are second only to withdrawal delays in terms of overall consumer complaints.
A closed account alert may come up if William Hill Casino, or another gaming site, feels that someone is accessing the account fraudulently. Additionally, closed account alerts are sent to customers if they haven't used their account in a while. If an account is inactive for a period of time, most casinos will close the account, rather than leave it open and available for potential fraud. Typically, the casino will send a "closed account" alert message to the customer, simply asking them to verify if they wish to keep the account active. If the customer indicates that they would like the account to stay active, the closed account action will be terminated for the account in question, and it will remain active. If the customer does not respond, the casino will move forward on the account termination.
Resolving closed account complaints with William Hill Casino
For the safety and security of customers, William Hill will assign a closed account alert on accounts that are inactive for a period of time, or on accounts where fraud is suspected. Closed account issues can occur when the casino determines customers are abusing promotional offerings, or sports books customers engage in arbitrage, betting both sides of a game, consistently. Closed account alerts are also made on any duplicate accounts, which from a casino perspective, may be seen as fraud.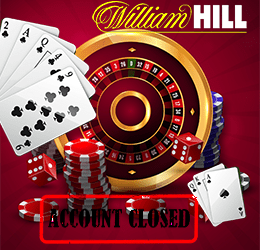 For customers who believe they have a legitimate complaint against William Hill Casino, whether a closed account, or otherwise, the first step is to contact the Customer Service team. The Customer Service team at William Hill Casino responds to complaints 24 hours a day, 7 days a week. The vast majority of complaints are resolved through Customer Service rather easily. They are available via live chat, toll-free phone, or email.
Addition Options for Issue Resolution
If Customer Service cannot resolve a complaint, there are several online sites dedicated to assisting online gamers with complaints, and a simple google search can provide customers with options. Additionally, even if not credentialed with the Better Business Bureau, clients can make complaints for BBB follow up. In reviewing William Hill complaints, the vast majority were settled successfully when going through these channels.
While it is impossible for a casino to do everything correctly 100% of the time, there are usually legitimate reasons for delays in processing, or reasons why a customer account would be closed unexpectedly. In reviewing the resolution rates for William Hill Casino, the vast majority of complaints were resolved either through their own Customer Service Team, the BBB, or one of the many advocate sites set up to investigate consumer complaints. So for anyone with concerns or complaints, there are clear pathways to resolution.
Bottom Line
Hill Casino and sportsbook is a highly respected gaming site. They provide 24 hour a day, 7 days a week coverage by their customer service team to respond to questions, concerns and complaints regarding player accounts, gaming, payouts, and other issues. While no casino is complaint-free, William Hill has properly earned a reputation among gamers as a reputable site for online gambling and sports betting.